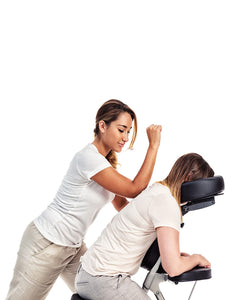 Onsite Chair Massage
---
Chair Massage is a great way to alleviate and manage stress in the workplace. It requires very little space; it is convenient, efficient, and most importantly - time well spent. It is one of the most cost-effective benefits offered by companies to help reduce health-related expenses.  
Come and enjoy a chair massage session. Your Certified Massage Therapist will focus on relieving tension from your back, shoulders, neck, arms and hands. Please let them know what areas you would like them to work on and what kind of pressure you would like. Just sit, breathe and relax!
If you are interested in offering this service to your employees at your outdoor or indoor location soon or in the near future, please fill out this request form, and we will respond asap. Be sure to include the location of the event, time, number of employees, etc.
Read More ......
---
We Also Recommend