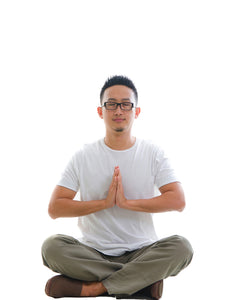 Virtual Guided Meditation Classes
---
Taking a pause to steady our minds and focus inwards offers us the mental refresh that is often missing in the busyness of our work days. Guided meditation is an effective tool to shift our focus and create space for more ease and less stress. We provide a wide-range of guided meditations that explore various methods, utilizing accessible techniques such as visualization and breath & sensory awareness. Each meditation session includes a brief introduction presentation, space for attendee engagement, and of course the majority of the session is spent in meditation. Our guided meditation series gives the benefits of consistent practice, while also keeping things fresh with a new focus for each session. Explore the myriad ways to experience the peace that lies within!
See sample class topics below.
In our day-to-day work and in times of stress, we can feel limited in our time, energy, and spaciousness. The Open Awareness meditation utilizes guided practice and techniques to support the feeling of expansion, connection, and ease. Return to your breath and body as you move away from stress and overwhelm, and into spaciousness and possibility.
As the winds of life can pull our attention in many different directions, we support ourselves by grounding into the wisdom of the mountain. The Mountain Meditation invites you to experience the natural inner strength and focus that nature's elements offer us. Bring steadiness to your body and mind by connecting the senses and attention to the qualities of the mountain.
In nature, we find the elements earth, water, fire, and air, each with their own strengths, functioning together in harmony to support life. Those same elements are within our bodies, and through connecting to the elements within, we can find greater harmony in our own body, mind, and spirit. The Element Awareness Meditation connects the senses, the body, and the attention to the qualities of each element, creating a sensory experience to awaken the life force within.
Anxiety is an uneasiness that lives not only in the mind but in the body. Through conscious breath and meditation techniques, we can bring regulation to the nervous system, helping to ease the mind. The Easing Anxiety meditation cultivates calm by bringing inner support and relaxation to the body, and spaciousness and presence to the mind.
Our bodies do and hold so much for us, and yet most of our days are spent in the mind. A little awareness goes a long way when it comes to our relationship with our body. Through body awareness and connection, we can deepen and heal the separation between body and mind, and cultivate a healthy and loving relationship with our physical selves.
Life can easily pull us in many different directions, making it challenging to focus. Our modern digital lifestyle can exacerbate difficulty in staying present. Meditation is the ultimate antidote, focusing our mind on our breath, regulating emotions, and inviting our body and system to unplug into stillness. This meditation utilizes the basic foundations of mindfulness to clear distractions and bring you into center, so you can stay focused.
Stress is an inevitable part of life, and yet there are ways to manage our stress so that it doesn't get the best of us. Meditation serves as a powerful tool to shift into a more spacious state of being. Through mindfulness meditation techniques and breath awareness, we balance and regulate the nervous system, increasing our capacity to manage stress from the inside out.
Being human comes with a wide range of emotions, some of which can feel challenging and difficult to manage. Through awareness and acknowledgement of our emotions we can learn to be skillful and kind when faced with difficulties. This meditation provides mindfulness techniques that support this awareness process, creating compassionate space for us to choose our responses to challenging emotions.
Tap into the wisdom of the heart as you cultivate loving-kindness within. Through mindfulness meditation techniques, you'll access the powerful tool of compassion towards yourself and others. Through compassion, more ease, harmony, and understanding set in, for an overall greater sense of wellbeing.
The mind connects with the body for a heightened sense of presence in this walking meditation. When we are fully present, our minds can find relief and flow with curiosity to all that our experience has to offer in the moment. Emerge from this meditation more grounded and peaceful through slow mindful movement.
Our most powerful tool of presence is the breath. This meditation practice supports concentration, steadiness, and stillness through a variety of breath awareness techniques. Through breath awareness, we can access a sense of spaciousness and calm in our bodies and minds!
It can be challenging to get out of the mind's patterns and into the present moment. Sound Awareness meditation uses the sensory inputs of sound from your environment to bring grounding, presence, and focus to your mental space. Explore the connection of your awareness to sound and silence, finding more ease wherever you are!
Turn off the auto-pilot and tune into your life! When we tune into the rich information our senses can offer us, we cultivate the mindfulness to attune to the fullness of our sensory experience as humans. This powerful skill can enhance your ability to enjoy the simple pleasures in life, increasing your overall well-being!
Read More ......
Hi there!
Thank you for your visit.
If you are a company representative and would like to view more information about our wellness services, please
request here
If you have an account
sign in
---
We Also Recommend